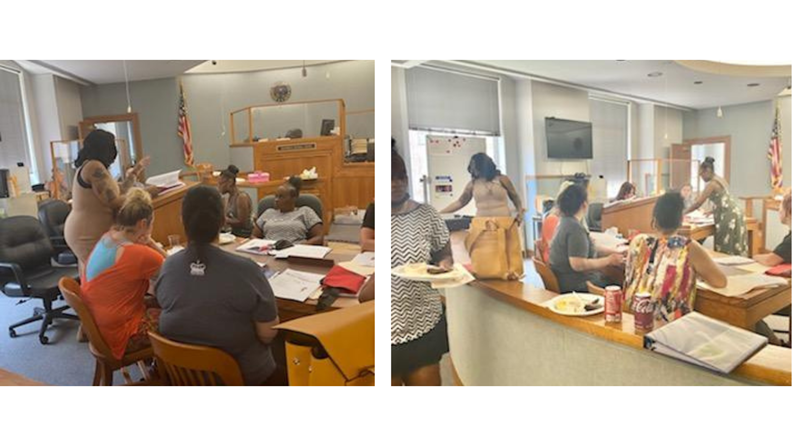 In May 2022, Dress for Success Cincinnati expanded the HigherHER program to the Hamilton County CHANGE Court. Overseen by Hon. Heather S. Russell, this program serves women who have been charged with Prostitution and Related Offenses and victims of Sex Trafficking.  
CHANGE stands for "Changing Habits And setting New Goals is Empowering." In this voluntary and judge-supervised treatment program, women work with a team of professionals and volunteer mentors to improve their life and work on skills to successfully stay out of the criminal justice system. Depending on the individual, CHANGE Court can last from one year to two years. 
This program is made possible by the Second Chance Act, a law that supports state and local reentry programs to reduce recidivism. This bipartisan legislation was first introduced by Senator Rob Portman and the late-Congresswoman Stephanie Tubbs Jones in 2008. Since then, Ohio has received more than $39 million in Second Chance grants, which includes funds to serve Ohioans re-entering the community with services such as drug rehabilitation, job training, case management and mental health treatment. (senate.gov)  
Led by Programs Director Dr. Angela Rivers-Harper, Dress for Success Cincinnati teaches eight weeks of HigherHER, our signature career development program. During this time, the women are taught a variety of skills and topics including organizational job search planning, resume writing, workplace professionalism, salary negations, and much more. The women participate in ice breakers, receive homework after each session and are given pop-quizzes in addition to a final exam. Through our partnership with Cincinnati Works, the women also meet with a career coach to participate in mock interviews and to receive help searching for employment. 
Not only does CHANGE Court provide women the tools to break through barriers, gain self-confidence, become a productive member of society, and continue their sobriety, it allows women to dream together about their futures and make plans how to achieve those dreams. 
Once women graduate from CHANGE Court, they are given a certificate and attend a graduation ceremony. The women may also become eligible for expungement after successful completion of the program. After the most recent cohort, 9 women graduated and currently 8 of them are employed. The next cohort begins early November. 
If you'd like to learn more about CHANGE Court, please visit here. If you'd like to become a volunteer mentor, please contact Volunteer Manager Courtney Shannon at cshannon@dfscincy.org. To learn more about HigherHER, our career development program, visit here or contact Programs Director Dr. Angela Rivers-Harper at ariversharper@dfscincy.org. 
If you would like to make a financial donation to support Dress for Success Cincinnati and the partnership with CHANGE Court, you can do so here.    
Ohio leaders praise Portman's bipartisan Second Chance Act. Senator Rob Portman. (2018, December 18). Retrieved October 26, 2022, from https://www.portman.senate.gov/newsroom/portman-difference/ohio-leaders-praise-portmans-bipartisan-second-chance-act 
Change Court. Hamilton County Courts. (n.d.). Retrieved October 26, 2022, from https://hamiltoncountycourts.org/index.php/change-court-2/