As Dress for Success Cincinnati celebrates its 20th Anniversary this year, we will share 20 of the countless inspiring stories from the courageous women we serve and dedicated volunteers who help them on their journey.
Story #3: Rose Aleman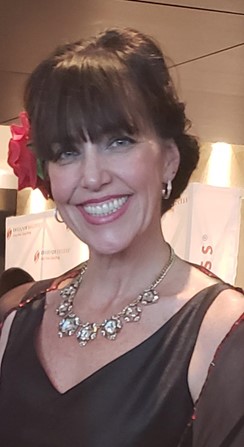 When you're down, Dress for Success lifts you up.
Rose resigned from her job in non-profit leadership to pursue a new career in software development. She was accepted into a training program and provided her employer ample notice, but they ignored her resignation and fired her 12 days later.
Stunned, she discovered her non-profit employer was exempt from paying into unemployment insurance so Rose had no income while she waited for the training program to start. But she was eligible for a retraining grant through the Ohio Department of Jobs and Family Services and that paid her class fees. Even more importantly, she was referred to Dress for Success Cincinnati to get suited for interviews. Using money from a small pension to support her son and herself during the transition left nothing for a new wardrobe.
Rose went to her suiting appointment not knowing what to expect and actually felt guilty because she had always been self-sufficient. She felt unworthy. Rose says all her negative feelings melted away as the staff and volunteers warmly welcomed her.
She was amazed at the depth and variety of programs offered: everything from job coaching, resume services, wellness classes and, of course, professional clothing! She had not interviewed in many years and she felt intimidated. How did she explain leaving a steady job for a new industry? Overweight from eating her feelings of unworthiness and anxiety, Rose felt horrible about herself. Her confidence was at an all-time low.
But her personal shopper in Suiting was kind, helpful and very encouraging. She left us that first day with a beautiful suit and a desire to be part of the organization. She was determined to volunteer and give back as soon as she found a job.
Rose was finding it very difficult to break into this new technology field. She had a decent resume but no confidence and with repeated rejections, grew more and more discouraged. Then Dress for Success Cincinnati called about a mock interview opportunity with our Going Places Network for women looking for work. Rose went—and saw there was a room full of women just like her with struggles and strengths and working to better their lives. She found the Dress for Success Cincinnati Career Center. Rose says not only did they help her improve her resume but also helped her find the right language to explain her decision to transition careers.
Rose's confidence grew each week passed as she listened to job coaches, program directors, HR representatives and her sisters in the GPN. She started applying for more positions. Her new confidence led her to tackle her health and wellness challenges and she began exercising and adjusting her nutrition. She continued to attend GPN each week, graduated the program and was asked to continue with the program as a peer mentor. In the 6 short months since she had first entered our doors, Rose had lost 30 pounds, gained a sense of confidence in herself and her abilities and felt empowered to become the best Rose possible.
Today, Rose is an IT Quality Assurance Analyst at a major insurance company here in Cincinnati. Rose says Dress for Success Cincinnati transformed her life.
Story #2: Shara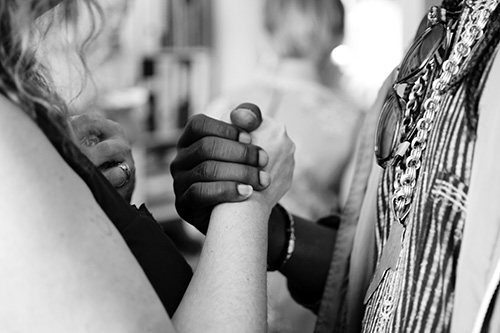 You've heard of the heroin epidemic?  Shara was part of it. She's a recovering heroin addict. Only one of her children lives with her – one died of SIDS, and she lost custody of two when she was on drugs. She was in and out of schools, relationships, jobs, and custody hearings over for most of her young life.
A child of divorce and an abusive, alcoholic mother, Shara was drinking in junior high and doing party drugs in high school. Her father kicked her out when Shara got pregnant the first time. She moved in with an aunt who helped Shara finish high school on-line, but she couldn't keep Shara from self-destructing.
Through the years there was more drinking, more drugs, more boyfriends, more lost jobs and more pregnancies, and finally a painful surgery that led to addiction when her boyfriend convinced her heroin was the same as the narcotics in painkillers a doctor would give her. Shara's been homeless and she's been suicidal.
Finally, at rock bottom, Shara checked herself into a residential rehab program and then into a maternal addiction program. Shara says the final miracle was that program's referring her to Dress for Success.
Dress for Success surrounded her with support and encouragement and the company of women, who didn't judge her. She says she got confidence not just from the clothes, but also from the programs at Dress for Success—confidence that she could go back to school, get a job and, finally, be a good mother.
Shara has been clean and sober for almost 10 years. She only takes real medicine from a real doctor. Shara worked hard to get ready and get things done things to go to college at Cincinnati State. She is now a registered nurse and a state-tested nursing assistant. Her plans include earning her Bachelor of Science degree in Nursing. Shara says she is blessed to have the support she has now, and she is going for the future—for herself and for her children.
Story #1: Shiba Shorter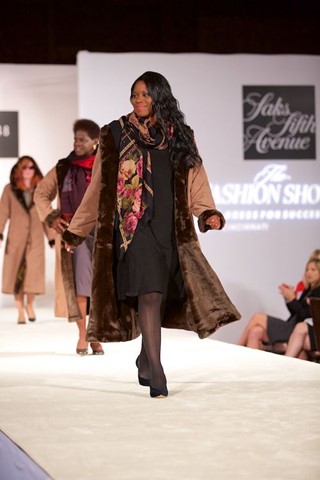 Shiba came to us when she needed help. Now, she helps us!
Once on the run from an abusive fiancé with her two young children with no close family or friends and little money, Shiba found herself with nowhere to go. At a hospital seeking help for her injured son, she had to utter the words "I am homeless." A local crisis center found a place for her at The Brighton Center, which introduced Shiba to Dress for Success Cincinnati -- and she instantly fell in love with us and our mission.
Shiba became an intern at Dress for Success, gaining confidence and a long-lost feeling of safety. Shiba says everyone at Dress for Success supported her in her job search. She honed her computer skills in our Career Center and was fitted for her Interview suit. Shiba even was a client model in Dress for Success Cincinnati's Fashion Show in 2015! She now volunteers in our Saturday Suiting Program.
Shiba attended Gateway Community and Technical College so she could become self-sufficient -- and lead by example for her kids. Today Shiba works for a local law firm. She's proud of herself, her children are proud of her – and so are we!