As Dress for Success Cincinnati celebrates its 20th Anniversary this year, we will share 20 of the countless inspiring stories from the courageous women we serve and dedicated volunteers who help them on their journey.
Story #10: Letitia B.
Letitia came to us for interview clothing. And she still has the shoes to prove it!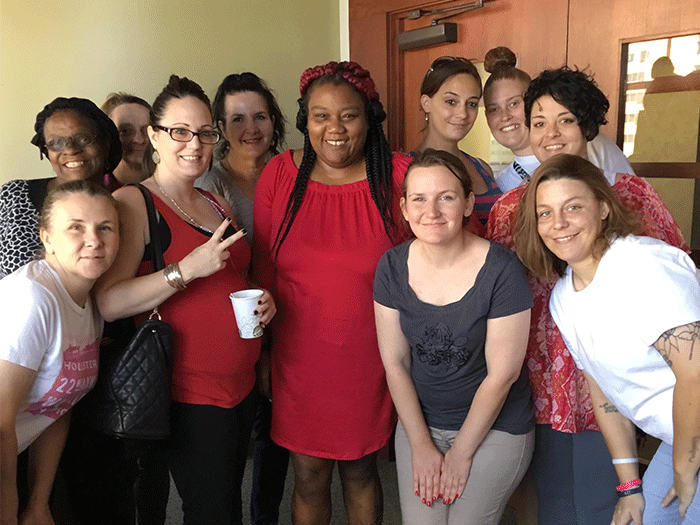 See that beautiful, happy woman in red in the center of the group photo? She's a former client of Dress for Success Cincinnati, and now she's a success as the Employment Coordinator at Volunteers of America! As part of her job, she brings women from VOA to Dress for Success for their interview suiting, including the enthusiastic women you see here.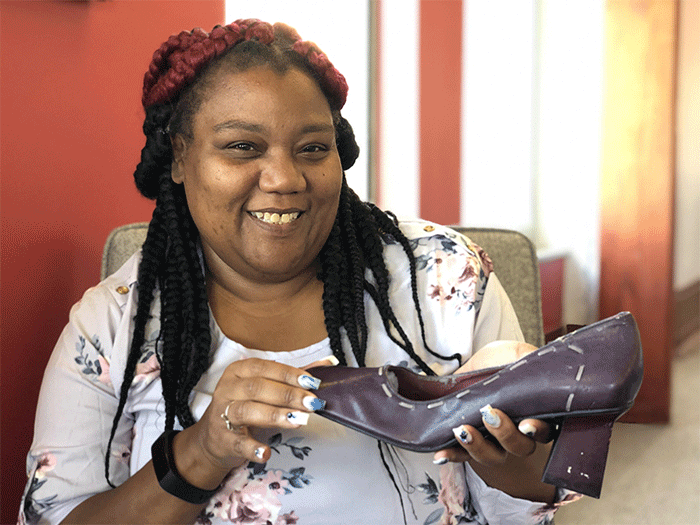 The shoes she's holding are the very shoes we provided Letitia when she first came here for her interview suit in 2010. We think they are a great symbol of the first-step service we offer our clients as part of our Suiting Program.
Story #9: Dr. Zaria Davis
Dress for Success Cincinnati helped Zaria transform her life.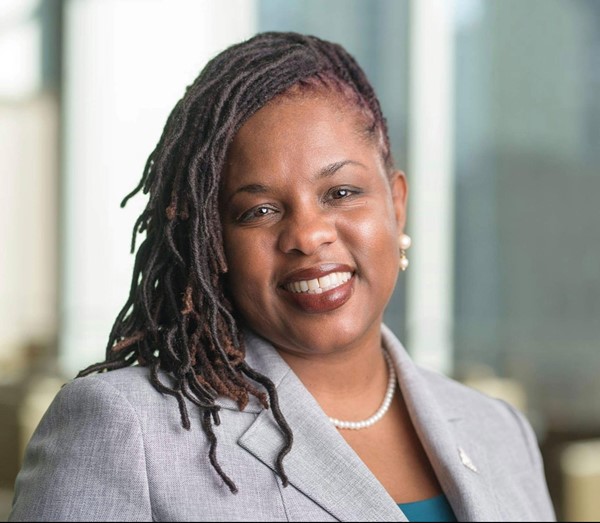 Dr. Zaria Davis was at her lowest point.
Zaria lost a thriving business, faced a life-threatening medical emergency herself and then lost her mother to the same condition, was tried for billing irregularities at her business and sent to a federal prison camp having to leave behind her teenage daughter.
But Davis discovered she could use her overwhelming adversities for a purpose. Her downfall, shame, and loneliness helped her grow as a person. They helped her acknowledge her faults, understand the importance of second chances, value her loved ones, and become healthy—both physically and spiritually. During that year away, she also found herself with help from God. 
When she arrived back home, Davis was a new woman, but she had lost a year of her teen's life, her home, and all of her money. That's when she found Dress for Success, which, she says, transformed her life. She received a warm welcome, non-judgmental support, and an interview outfit for her job search.
Davis joined Dress for Success Cincinnati's Professional Women's Group for women who have found a job and want to advance their careers.  She participated in all the support and expert speaker sessions and even serves as an ambassador doing public speaking and representing Dress for Success in the community.
The organization invited Davis to a re-entry panel for women re-entering life after incarceration. That experience inspired her to further share her story and provided motivation to explore a new career in criminal justice reform. 
Davis started her own nonprofit organization to help women with their reentry journey. She is currently the owner of New Direction Coaching & Consulting, LLC, contracting as policy specialist with operation restoration, was recently hired as senior associate with Pretrial Justice Institute, and is now a member of 2019 cohort of the JustLeadershipUSA Leading with Conviction Program.
Perhaps even more importantly, Davis is enjoying life again with her child. She knows she is worthy of success, and it is reflected in her local, state, and national involvement. 
Davis says she has been fortunate to have Dress for Success open doors and dreams for her and she now views her time away as preparation instead of a punishment. She believes that she is living her purpose, which is to serve others and be a voice of change.
Dress for Success Cincinnati thinks so highly of Zaria and the work she is doing for other women in our community that she was recently elected to the Dress for Success Board of Directors!
Story #8: Kelly Hollatz, volunteer & supporter
Kelly does everything she can to help women get prepared and empowered for jobs through Dress for Success Cincinnati. And then she hires them!

Kelly Hollatz, owner and president of First Star Safety, one of Greater Cincinnati's top construction and traffic safety supply firms, knows that women who graduate from the job readiness programs at Dress for Success Cincinnati are ready for employment. 
Kelly puts her hiring practices where her Dress for Success Cincinnati heart is, having hired a number of women who have gone through our job readiness programs.
"We're a small business," says Kelly. "We average 24 team members at any given time and I think First Star Safety has been a good "home" for the ladies that we have hired from Dress for Success. It's amazing to see how the clients that I have hired have developed over time, not only as team members, but also as women.  It's really been a pleasure and blessing to be able to offer a welcoming next step for these clients.  I would strongly suggest other local companies consider the clients at DfSC for future hiring needs—they have unlimited potential."
Kelly currently serves on the Board of Directors for Dress for Success Cincinnati, was a co-chair of our 2018 Fashion Show, our biggest fundraiser event of the year, and has given her time and talent at Dress for Success Cincinnati as a volunteer and in many other ways.
Kelly says that not every woman is ready for the rigors of her profession, but those who are have found confidence at Dress for Success have learned employment skills and developed determination and workplace attitudes that make them good hires.
"I have found that many on the clients from Dress for Success Cincinnati are ready to learn and eager to get to work.  They are more than excited and genuinely appreciative for an opportunity. That's what many of our clients need -- they simply need an opportunity. I have not been disappointed," Kelly says.
Huge thanks to Kelly and First Star Safety and to all the other local employers who know our Dress For Success programs (and clients) work!
Story #7: Christine, 
Fashion Show model
Claiming my time to shine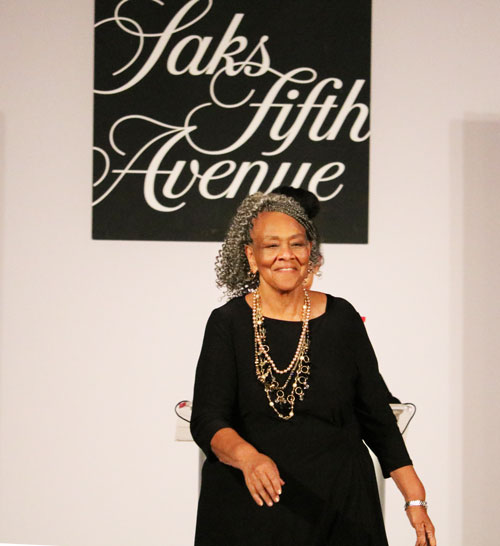 I'm Christine.  I'm 72 years old – I'm a mother, a grandmother and a great grandmother. 
I dropped out of high school when I became pregnant in the '60s.  It was hard and as my family grew, it got harder. But I was determined to be a role model for my children. They learned that whatever your circumstances, you don't give up.
I've always has some kind of job. I had to. At one time, I was in Housekeeping in University Hospital. Part of my job was to make sure packs of sterilized equipment were ready in the Operating Room. Once I noticed some devices had not been assembled properly by the night shift. So I reassembled them correctly. My supervisor noticed, and right there created a new job and title for me:  Operating Room Tech. That was a turning point— being recognized for my work and initiative. It flipped a switch and gave me encouragement! And other promotions provided healthcare benefits so I could finally get my much-needed back surgery.
Being a single mother without an education is not easy. But everybody has their own story—and their own hardships—you can't dwell on it. My kids are grown, good and productive and I'm so proud of them all.
For 50 years, I tried many times to get that high school degree, taking a class here and there when I could, and getting closer and closer.
And I finally made it!  Ladies and gentlemen, you are looking at a high school graduate as of May 22nd THIS YEAR.
Now I'm looking for a job. Age is just a number. I earned my Certification as a Customer Service Representative in an Urban League training program and they also referred me to Dress for Success Cincinnati. Their suiting program was my first step. The past is past, and I'm getting ready for the future with Dress for Success. 
Yes, I'm 72, I've earned a high school diploma—and now it's my time!
Story #6: Markita, Fashion Show model
Overcoming mental health struggles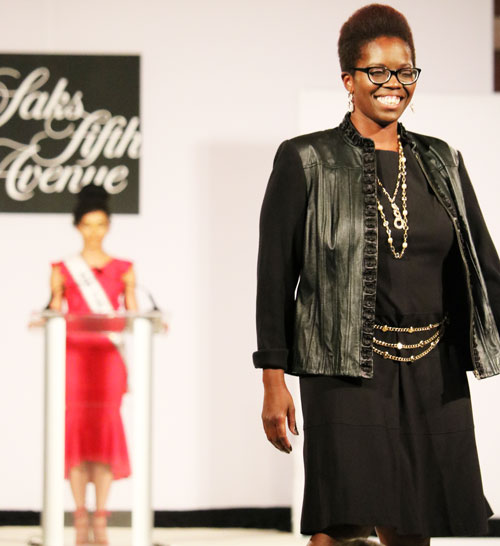 I'm Markita.
I was suicidal and in therapy at 16. I was diagnosed with agoraphobia in Navy Boot Camp, had panic attacks that were a danger to myself and others, and I have learned in years of therapy not to act on what the voices in my head are saying.
I've been unemployed and homeless, and I self-medicated that loss by going through a fifth of liquor a day—starting before breakfast. 
Rehab saved me. 
I didn't come from a terrible background. My parents both worked and I had a Nanny.  But I had to turn down a partial college scholarship because my parents wouldn't sign for my loans. My artistic dreams faded and I went to court reporting school. I've also worked for UPS and with the Downtown Cincinnati Ambassadors who help visitors and keep the sidewalks clean and safe. But I lost that job two years ago and I couldn't find another one because I was struggling with severe mental health issues.
I had to go on food stamps through Hamilton County Job and Family Services. They referred me to Dress for Success.  
I was very nervous walking through the door. But I felt immediately at home. The staff and volunteers greeted my warmly and treated me like a sister, rather than a broken person. That was another step forward to becoming myself again. And that's why I'm happy to be here.
I have my daughter back with me. I have a job with Over the Rhine Community Housing. I'm on the Board of Tender Mercies. I've joined the Dress for Success Professional Women's Group to help me continue and advance in my career.  
And my artistic energy that was buried for so many years is back—and I am working on a graphic novel.
Thank you, mental health care workers, and thank you Dress for Success Cincinnati.
Story #5: Wanda, 
Fashion Show model
Rising up from the lowest low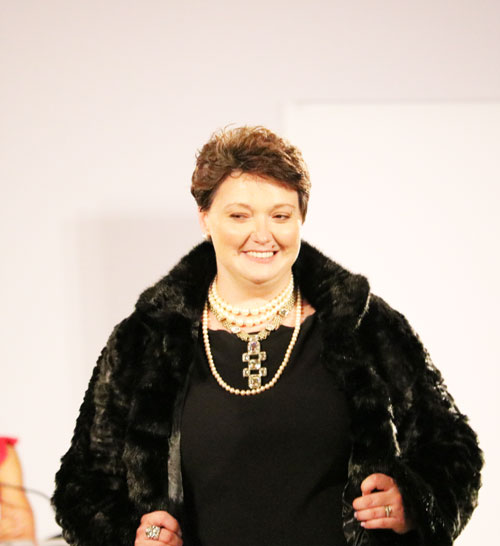 I'm Wanda.  I've been so low, I thought I could never get up.
I come from a family of abuse—physical, emotional—and for three years, starting when I was 10—sexual abuse. My parents divorced and there was little support. 
I hated my life, and by 9 years old, I was drinking and smoking dope. 
I still made good grades trying to impress my mom. But the good grades ended when I was 16; that's when I started using meth.
By 22, I was trafficking and in a terrible marriage—we were an "addiction couple," together only for the drugs. One day in a drug stupor and hallucinating, I beat my husband with a baseball bat. I ran. I dodged the cops. I lived on the streets. And finally woke up in a run down house with no electricity, no phone, and trying to find a vein to inject myself.  I said a two-word prayer: "Help me."
I was caught and arrested. That was the beginning of the answer to my prayer. In the back of the cruiser, something told me, "Give in." I believe it was God.
I had nothing. I had no self-respect and no morals. I was a "gutter junkie" —I lied, I cheated, I conned, I was a thief—no values except the next hit.
It was actually jail that helped me heal enough to change. At least I knew where my next meal was coming from, and had consistency.
I joined a 12-Step program there and I was paroled to Brighton Recovery Center, where I smiled my first real smile in years.  I began to care about other people and learned to love myself.
One day I thought, "Oh my god, I'm doing this!"
I first went to Dress for Success Cincinnati on my 2nd Anniversary of "clean and sober."  They made me feel welcome and like a valuable human being.  The clothing and pampering and the people all made me feel beautiful.
Today I'm a Peer Support Specialist at the Recovery Center. I help other women see that recovery is something worth having. One thing I do is bring other women to Dress for Success so they can feel worthwhile, too. 
It feels good to be able to give back.
Story #4: Bonnie & Sandy, clients
Dress for Success Friendship Leads to Cross Country Adventure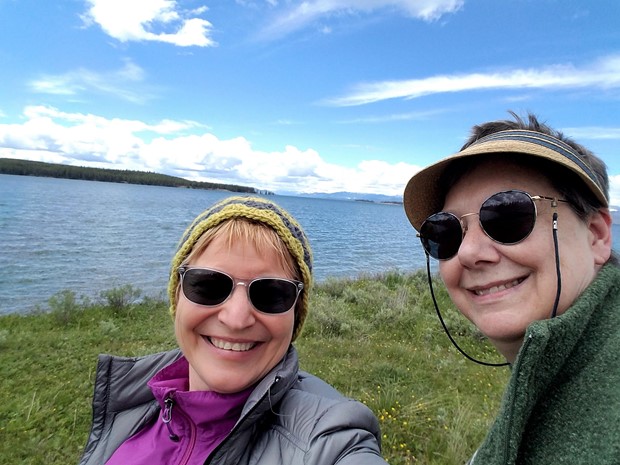 Sandy came to DFSC in 2009. She was under-employed and looking for support in finding employment that would offer better sustainability. She joined the Going Places Network (GPN) and eventually the Professional Womens Group (PWG). Sandy says she was hoping to find a strong community of friends.  She did that and more, eventually starting her own home healthcare business and winning an international Dress for Success Worldwide award for a community service program she created, executed and documented on video.
Bonnie joined GPN in 2012 and PWG in 2013.  Bonnie went from client to employment taking advantage of our programs and now she is giving back as a volunteer. Recovering from multiple injuries she suffered in an automobile collision, Bonnie came to us needing help finding a job and finding herself. Participating in our job readiness and development programs helped her find herself and a BFF! Now she comes to us  when we need help, acting as a Dress for Success Ambassador and providing professional photography that helps document what we do to carry out our mission.
She met Sandy at PWG in 2013. The two began chatting casually at PWG events, and after discovering they had a lot in common—Bonnie is a photographer and Sandy a videographer—they began seeking one another out and sitting together at the monthly events.   
The bond between the two really deepened when they attended the 2016 Dress for Success Worldwide Success Summit in Chicago. The Success Summit is by invitation and is open to women in PWG who are on their way to becoming leaders and catalysts for change in their communities.  Each participant is expected to complete a Community Action Project (CAP) aimed at identifying a social need in their community, then utilizing local resources to bring awareness to their chosen issue. Only one client per affiliate is invited each year. Sandy had attended Success Summit the year before but had been invited back to receive an award from DFS Worldwide for her CAP. Bonnie was there to kick off her CAP.
They flew to Chicago together, and Bonnie says they talked about anything and everything on the trip out, from religion to politics to whether aliens existed. They had a wonderful time at the seminar, and on the trip home, they were laughing so much people on the plane probably mistakenly thought they had been drinking. By the time they arrived back in Cincinnati, each woman knew they had a new close friend for life.   
Fast forward to 2017. For years, Bonnie had dreamed of visiting Yellowstone National Park. She was ready to begin planning a trip but couldn't find anyone interested in making the three-day cross-country drive. Sandy, who years before had visited the park annually to shoot video with her then husband was eager to make the trip but felt she couldn't afford it. Bonnie issued a challenge: "You have a year to save up for this. If you really want to go, you'll find a way." 
Sandy accepted her friend's challenge, and the two spent the next 12 months planning and saving for their adventure. Because Sandy had visited Yellowstone so many times (and loves planning the logistics of a trip), she took the lead on scoping out itineraries and lodging options. The two met weekly at Bonnie's apartment to make their plans.
Both describe the trip as magical. "Everything went right, and we got lucky several times," says Bonnie. "It all fell into place the way we had dreamed about it.  I really wanted to see a buffalo, and one day we were driving and ran into a group of motorcyclists moving a large herd down the road! Sandy was eager to see a moose as she had many times before, but we were having no luck. One day, we pulled over  shoot some photos of flowers, and off in the distance was a lone moose! It was crazy."   
Reflecting on the trip, both women say they got much more out of it than just a vacation. "Because of Sandy, I got to see parts of Yellowstone I never would have. I also began photographing nature on the trip which is totally new for me." 
For Sandy, the trip re-awakened her desire to travel. She says, "Because of Bonnie, I'm traveling again.  I really thought traveling was behind me." Next up for Sandy is a trip to Australia. Maybe Bonnie will go, too!
Dress for Success Cincinnati offers a network of support, professional attire and development tools to help women thrive in work and in life.  We also offer networking opportunities that might just lead to the chance to find forever friends.
Story #3: Rose Aleman, client
When you're down, Dress for Success lifts you up.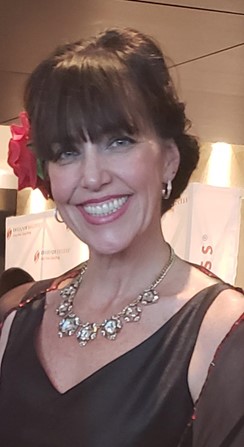 Rose resigned from her job in non-profit leadership to pursue a new career in software development. She was accepted into a training program and provided her employer ample notice, but they ignored her resignation and fired her 12 days later.
Stunned, she discovered her non-profit employer was exempt from paying into unemployment insurance so Rose had no income while she waited for the training program to start. But she was eligible for a retraining grant through the Ohio Department of Jobs and Family Services and that paid her class fees. Even more importantly, she was referred to Dress for Success Cincinnati to get suited for interviews. Using money from a small pension to support her son and herself during the transition left nothing for a new wardrobe.
Rose went to her suiting appointment not knowing what to expect and actually felt guilty because she had always been self-sufficient. She felt unworthy. Rose says all her negative feelings melted away as the staff and volunteers warmly welcomed her.
She was amazed at the depth and variety of programs offered: everything from job coaching, resume services, wellness classes and, of course, professional clothing! She had not interviewed in many years and she felt intimidated. How did she explain leaving a steady job for a new industry? Overweight from eating her feelings of unworthiness and anxiety, Rose felt horrible about herself. Her confidence was at an all-time low.
But her personal shopper in Suiting was kind, helpful and very encouraging. She left us that first day with a beautiful suit and a desire to be part of the organization. She was determined to volunteer and give back as soon as she found a job.
Rose was finding it very difficult to break into this new technology field. She had a decent resume but no confidence and with repeated rejections, grew more and more discouraged. Then Dress for Success Cincinnati called about a mock interview opportunity with our Going Places Network for women looking for work. Rose went—and saw there was a room full of women just like her with struggles and strengths and working to better their lives. She found the Dress for Success Cincinnati Career Center. Rose says not only did they help her improve her resume but also helped her find the right language to explain her decision to transition careers.
Rose's confidence grew each week passed as she listened to job coaches, program directors, HR representatives and her sisters in the GPN. She started applying for more positions. Her new confidence led her to tackle her health and wellness challenges and she began exercising and adjusting her nutrition. She continued to attend GPN each week, graduated the program and was asked to continue with the program as a peer mentor. In the 6 short months since she had first entered our doors, Rose had lost 30 pounds, gained a sense of confidence in herself and her abilities and felt empowered to become the best Rose possible.
Today, Rose is an IT Quality Assurance Analyst at a major insurance company here in Cincinnati. Rose says Dress for Success Cincinnati transformed her life.
Story #2: Shara, client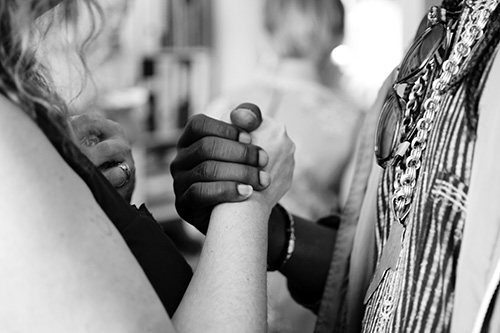 You've heard of the heroin epidemic?  Shara was part of it. She's a recovering heroin addict. Only one of her children lives with her – one died of SIDS, and she lost custody of two when she was on drugs. She was in and out of schools, relationships, jobs, and custody hearings over for most of her young life.
A child of divorce and an abusive, alcoholic mother, Shara was drinking in junior high and doing party drugs in high school. Her father kicked her out when Shara got pregnant the first time. She moved in with an aunt who helped Shara finish high school on-line, but she couldn't keep Shara from self-destructing.
Through the years there was more drinking, more drugs, more boyfriends, more lost jobs and more pregnancies, and finally a painful surgery that led to addiction when her boyfriend convinced her heroin was the same as the narcotics in painkillers a doctor would give her. Shara's been homeless and she's been suicidal.
Finally, at rock bottom, Shara checked herself into a residential rehab program and then into a maternal addiction program. Shara says the final miracle was that program's referring her to Dress for Success.
Dress for Success surrounded her with support and encouragement and the company of women, who didn't judge her. She says she got confidence not just from the clothes, but also from the programs at Dress for Success—confidence that she could go back to school, get a job and, finally, be a good mother.
Shara has been clean and sober for almost 10 years. She only takes real medicine from a real doctor. Shara worked hard to get ready and get things done things to go to college at Cincinnati State. She is now a registered nurse and a state-tested nursing assistant. Her plans include earning her Bachelor of Science degree in Nursing. Shara says she is blessed to have the support she has now, and she is going for the future—for herself and for her children.
Story #1: Shiba Shorter, client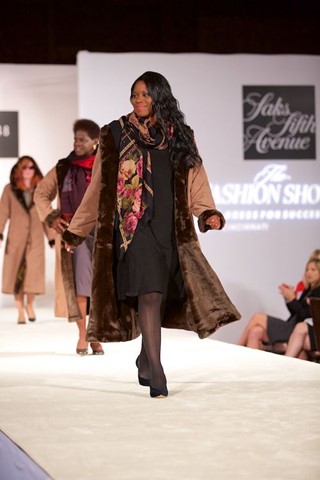 Shiba came to us when she needed help. Now, she helps us!
Once on the run from an abusive fiancé with her two young children with no close family or friends and little money, Shiba found herself with nowhere to go. At a hospital seeking help for her injured son, she had to utter the words "I am homeless." A local crisis center found a place for her at The Brighton Center, which introduced Shiba to Dress for Success Cincinnati -- and she instantly fell in love with us and our mission.
Shiba became an intern at Dress for Success, gaining confidence and a long-lost feeling of safety. Shiba says everyone at Dress for Success supported her in her job search. She honed her computer skills in our Career Center and was fitted for her Interview suit. Shiba even was a client model in Dress for Success Cincinnati's Fashion Show in 2015! She now volunteers in our Saturday Suiting Program.
Shiba attended Gateway Community and Technical College so she could become self-sufficient -- and lead by example for her kids. Today Shiba works for a local law firm. She's proud of herself, her children are proud of her – and so are we!