As Dress for Success Cincinnati celebrates its 20th Anniversary this year, we will share 20 of the countless inspiring stories from the courageous women we serve and dedicated volunteers who help them on their journey.
Story #1: Shiba Shorter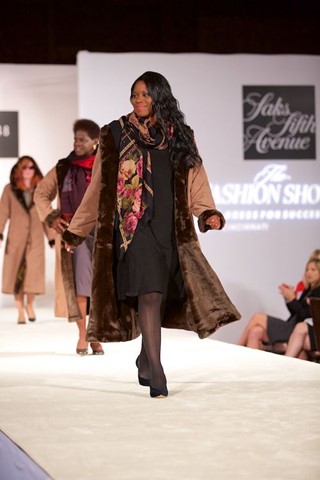 Shiba came to us when she needed help. Now, she helps us!
Once on the run from an abusive fiancé with her two young children with no close family or friends and little money, Shiba found herself with nowhere to go. At a hospital seeking help for her injured son, she had to utter the words "I am homeless." A local crisis center found a place for her at The Brighton Center, which introduced Shiba to Dress for Success Cincinnati -- and she instantly fell in love with us and our mission.
Shiba became an intern at Dress for Success, gaining confidence and a long-lost feeling of safety. Shiba says everyone at Dress for Success supported her in her job search. She honed her computer skills in our Career Center and was fitted for her Interview suit. Shiba even was a client model in Dress for Success Cincinnati's Fashion Show in 2015! She now volunteers in our Saturday Suiting Program.
Shiba attended Gateway Community and Technical College so she could become self-sufficient -- and lead by example for her kids. Today Shiba works for a local law firm. She's proud of herself, her children are proud of her – and so are we!